ROCKAWAY SAUNA & COLD PLUNGE
March 6 @ 10:00 am

-

6:30 pm
We're partnering up with The Rockaway Hotel + Spa for a full day of pampering.
The highlight of the day is a sauna session in cedar barrel saunas and a cold plunge in the beautiful pool. This is a great way to raise your endorphin levels while challenging yourself with extreme temperature changes.
WHAT THE DAY WILL LOOK LIKE:
When you arrive for your session you'll enjoy a welcome cocktail before starting your Sauna and Cold Plunge experience. After 1.5hrs you'll enjoy a Classic Green Goddess Smoothie: Avocado, Banana, Spinach, Mint, Lime, and Pineapple. Then stay a while and dine with us at Margie's! All Outsiders will enjoy a 10% dining discount.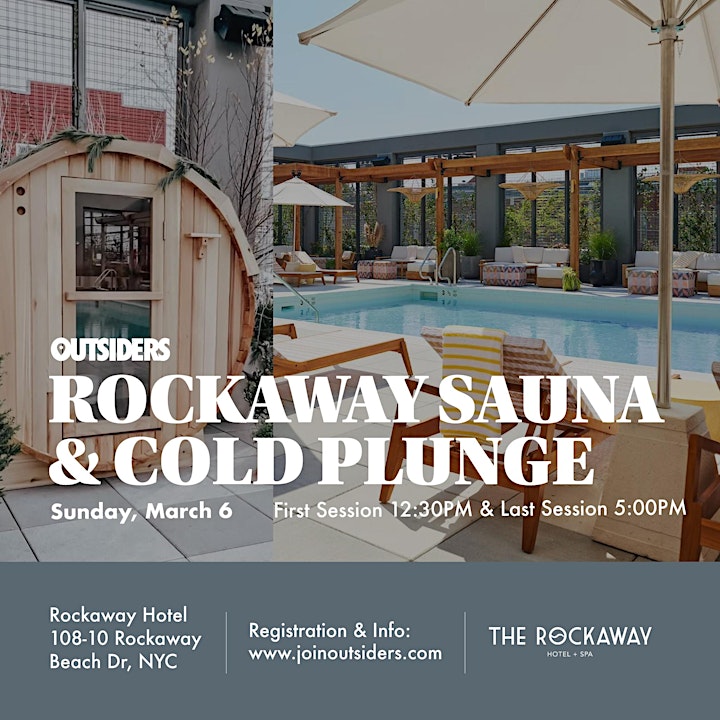 We're offering 4 Sauna/ Cold Plunge Sessions : Session times (based on Ferry Schedule from Wall Street/ Pier 11)
Group 1:
Departing at 10AM, Arriving @ Rockaway 12:24PM
Pool Time & Sauna Time: 12:30PM – 2:00PM
Group 2:
Departing at 1PM, Arriving @ Rockaway 1:54PM
Pool Time & Sauna Time: 2:00PM – 3:30PM
Group 3:
Departing at 2:30PM, Arriving @ Rockaway 3:24PM
Pool Time & Sauna Time: 3:30PM – 5:00PM
Group 4:
Departing at 4PM, Arriving @ Rockaway 4:54PM
Pool Time & Sauna Time: 5:00PM – 6:30PM